a Russian painter in France
Constantin Paviovitch Kousnetzoff was born in 1863 in Nijny-Novgorod from a family of wealthy notables where he received a good education. He enjoyed reading and music. He played the piano. But he prefered life in the country in Jolnino on the river Oka where he used to hunt and fish. Thus he learned to admire nature as a teenager ; there started his vocation as a painter.


Later on, he spent extended periods of time in Saratoff at the Free Painting Academy where he met Borissoff Moussatoff and other artists who would later form the Blue Rose symbolist group in Moscow. In this town of Saratoff, there were private collections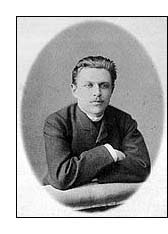 of French paintings, mainly from the Barbizon school that C. Kousnetzoff came to know.
In 1896, he started a long journey through the main European artistic capitals, London, Paris, Rome and Florence where he thought about staying for some years ; but his fiancée, a young educated muscovite, advised him to go to Paris which was at the time the main international place for arts. There, he worked at the Cormon studio from 1897 to 1899, at the same time as Borissoff-Moussatoff and Chervachidze, going back to Russia from time to time.
In 1900, he married Alexandra Alexeieva Samodouroff, who gave him four children. When settled in Paris, they kept their Russian nationality. Both had come to practise painting and he entered the Humbert Studio while she went to the Julian Academy. Their true masters were the impressionnists Monet and Pissaro.
Constantin Kousnetzoff practised mainly easel-painting outdoors. Being a good portraitist, he nevertheless turned to pure landscape painting, doing decorative painting only in winter in the studio. He exhibited regularly at the main Paris art galleries and was a member of the Autumn exhibition. He also exhibited in St Petersbourg and Moscow until 1910, and in London, Belgium, Pittsburg in America. Important critics such as Guillaume Apollinaire and art historians such as Michel Florisoone, became very interested in his works.
The French writer Maurice Genevoix wrote a preface about him, but the artist never accepted to sell his painting during his lifetime.
He found his first source of inspiration in Britanny where he went for the first time in 1900, to Concarneau. After 1906, he went back there each year, most of the time on the North shore (Val-André) and some times on the South coast (Belle-Tie in 1913 and 1923, Kerfany in 1921). He spent two summers in Normandy, in 1910 in Etretat and in 1924 near the cliffs of Pourville, where he was drawn by the places that Monet painted.
After 1927, he never again left Paris, where he had started around 1920 to paint the landscapes of the Seine banks. Al. Zamochkine wrote in 1968 in the journal « the painter » (Moscow, 1968) : « having spent half of his life in Paris, he as a painter, was united with the magnificient city. His Pans is changing, secretive and lyrical, real and fantastic. With Kousnetzoff, the city is genuine but transfigured by the painter's imagination. He wrote his own original page in the history of Paris written by the painters. His Paris landscapes, full of Russian sentimentality, are expressed in a personal, emotional, vivid and pictorial language. C. Kousnetzoff, as C. Korovine, was one of the first Russian painters for whom the link with the French artistic life was organic. »
In his Paris works, the artist turned away from Impressionism : his painting became more flowing, his touch larger (close to tachisme at times), his palette darker, his light with more contrast (sometimes in chiaroscuro). Being very independent, he moved towards a form of Luminism in which he appears to be absolutely original.
In his last works, and particularly in decorative painting, he made some transpositions of violent colours, with expressionnist strokes. In 1930, he illustrated « Viy » of Gogol. He was inspired by still other tales by this Russian writer.
The death of a son in 1933, added to the sorrow he felt as an expatriate, affected him deeply. He died in 1936, faithful to the Orthodox church.